Gluten-Free Tempura.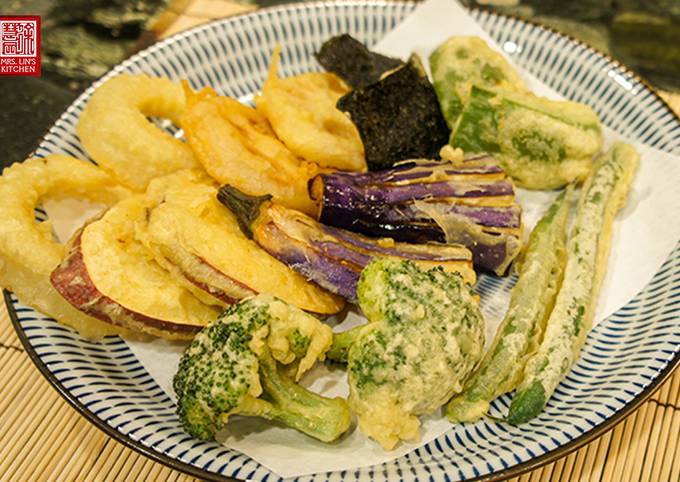 You can have Gluten-Free Tempura using 18 ingredients and 19 steps. Here is how you achieve it.
Ingredients of Gluten-Free Tempura
You need of Gluten-Free Batter.
Prepare 1/3 cup of garbanzo bean flour.
Prepare 2/3 cup of rice flour.
Prepare 3 tbsp of corn starch.
Prepare 1 tbsp of tapioca flour.
Prepare 2 tsp of baking powder.
It's 1/2-3/4 cup of iced water.
You need of Salt.
It's of Vegetables.
It's of Japanese yam/sweet potato.
It's of Lotus root.
You need of Broccoli crown.
It's of String beans.
You need of Green bell pepper.
Prepare of Yellow onion.
You need of Japanese/Chinese eggplant.
You need of Nori/seaweed.
It's of Daikon (for dipping sauce).
Gluten-Free Tempura step by step
Make some grated daikon for tempura sauce. After grating the daikon, you want to get rid of the excess moisture. The grated daikon shouldn't be soaking wet or too dry. You still want some moisture left in the grated daikon. Gluten-free tempura sauce: https://youtu.be/rXIiPgge6FE.
Split the kabocha squash in half first and get rid of the seed inside. Cut it into thinner slices about ¼" thick..
Cut the Japanese yam into ¼" thick with the skin on. After cutting, soak the yam in water for half an hour to get rid of the starch on the surface..
Cut the green bell pepper in half first. Then take out all the seeds. Cut it into smaller wedges.
With the broccoli crowns, you can cut them into smaller pieces..
Cut off the stem end of the string beans..
Peel off the skin and slice the yellow onion into ⅓". Next, you want to separate the slices into onion rings..
With the lotus root, peel the skin first. And then cut it into ¼" slices..
Cut the nori into small rectangles, about 1 ½" x 2"..
Trim the stem of the eggplant and cut it into about 2" to 3" each piece. Then cut in quarters. Next, cut the eggplant lengthwise into thin slices, about ¼" in width, leaving about half an inch from the top intact. Since eggplant will turn dark as soon as you cut it, it's best to prepare it right before you're ready to fry. Lastly, spread the slices out to make a little fan shape..
In a large mixing bowl, sieve all of your dry flour ingredients:  ⅔ cup of rice flour, ⅓ cup of garbanzo bean flour, 3 tbsp of corn starch, 1 tbsp of tapioca flour and 2 tsp of baking powder..
Add a pinch of salt for taste and then slowly mixing 1/2 cup of iced water in. You don't want the batter to be too thick or too runny. Add more iced water if needed. I ended up adding closer to 3/4 cup of iced water. Always keep the batter cool. The temperature difference between the cold batter and the hot oil is what makes the tempura crispy..
Heat the oil to 350°F. While you're frying, constantly check the temperature of your oil. If the oil temperature is too low, the veggies will soak in too much oil. If the temperature is too high, the veggies will be burned. You want to start frying from the root vegetables like lotus root first because they take longer to cook, then the softer vegetables like onion and eggplants, and lastly the nori..
When the oil is ready, coat the veggies lightly and shake off excess batter. Drop the veggie into the hot oil bath..
For root vegetables such as sweet potato and lotus root, fry for about 3 minutes. For kabocha squash, broccoli, green bell pepper, string beans, onion, and eggplants, fry for about 1 minute. Make sure to take out the fried batter bits in between each batch..
Only coat 1 side of the nori with batter. And fry for about 10 to 15 sec..
If you have leftover batter, you can pour it into the hot oil to make tempura crumbs. Tempura crumbs can be used for other dishes which I will show you in the future..
Place the tempura on a wired rack or some paper towels to remove excess oil. Then serve with grated daikon and tempura dipping sauce..
Instruction video: https://youtu.be/Rwy070Ly3kE.